Radiotelephony class
A course designed for the Student pilot preparing for the practical Radiotelephony test to the PPL wishing to brush up their R/T skills.
Comprehensive notes will be given to students once they have signed up to the course. The notes are geared around what you require to know to pass the practical test but also, perhaps more importantly, make your R/T more profficient in you everyday flying.
For PPL students one of the hardest aspects of the flying course is talking on the radio. Sometimes it is the fear of the unknown...it's just another person you are talking to! Or it could be combining flying the aircraft, navigating and talking all at the same time
The aim of this course is to introduce students to the basics of radiotelephony and to develop those skills leading to an understanding of what we say, not just to rhyme of a series of words, phrases and numbers because you are told to. Also the reason we say what we ay will be explained from an Air Traffic Control point of view.
All aspects of aviation can be covered during the course the following will be included:
A/G radio service
ATSoCAS
Squawk codes
Control Zones (inc MATZ)
Controlled Airports (ATIS, start clearance etc)
Cross Country Flying (Position reports etc)
Diversions
Emergencies
The structure of the course follows the PPL flying syllabus, starting with a training exercise in the local area, then circuits on all runways at Newtownards. Once these exercises are completed we will carryout a simulated cross country flight transiting controlled airspace and also being refused zone entry.
The next stage is a simulated longer cross country in which you will talk to Belfast Approach and Aldergrove and request the appropriate service. A simulated flight from Newtownards to Aldergrove will then take place covering the procedures at a controlled airport which differ significantly from anything up to now.
A series of cross countries will then be flown to introduce diversions and emergencies and MATZ airspace procedures
A simulated Qualifying cross country will then be flown in which we will deal with Belfast approach, Aldergrove Approach, Aldergrove Tower and Enniskillen radio.
Also available on request is 1 to 1 personal feedback, in the strictest confidence.
Finally several mock tests will be carried out in preparation for the real thng!
In order to make the experience as "real" as possible all students will have headsets and will be required to select the correct frequency on a radio panel and squawk codes on a transponder panel. Communication will be via a local network system.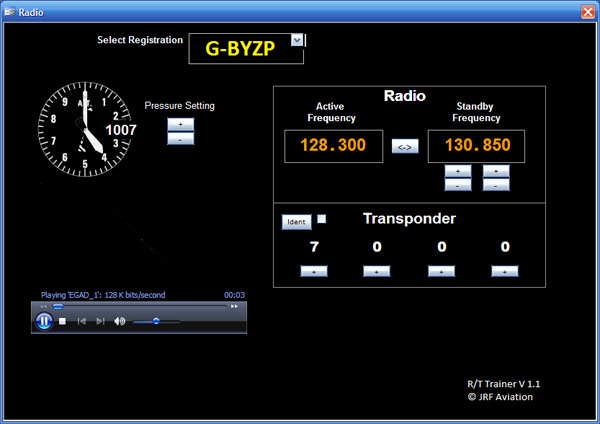 contact details
email: jonny@jrfaviation.com